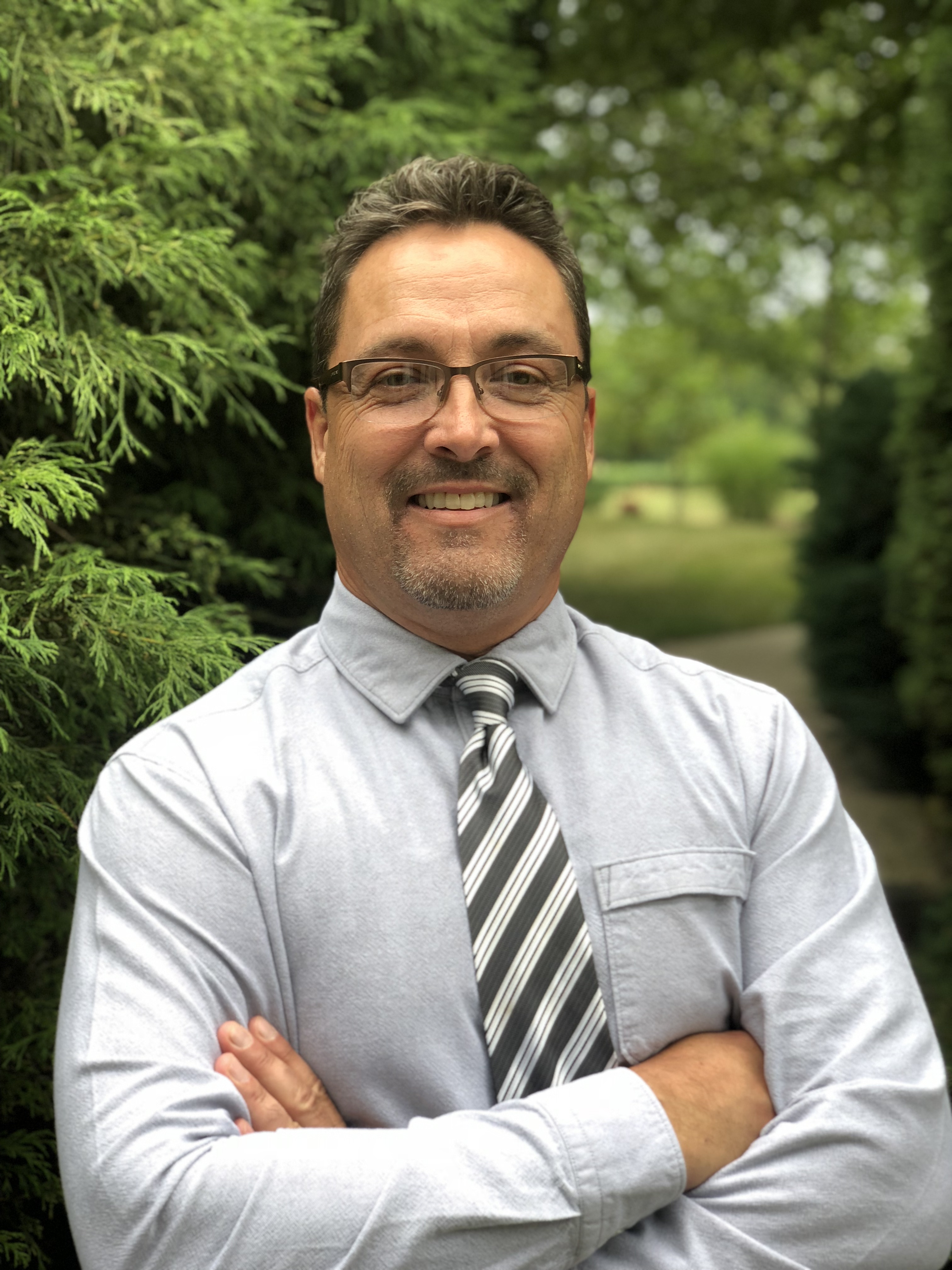 Steven F. Driggers, DDS
Dr. Steven Driggers completed his Bachelor of Science degree at Ball State University before attending the Indiana University School of Dentistry, where he graduated with his Doctor of Dental Surgery (DDS) degree in 1985. He has been practicing dentistry for 32 years, two of which were spent working with elderly patients in nursing homes. Dr. Driggers been practicing in the Avon, IN, area for almost 21 years.
Dr. Driggers is a member of the American Dental Association, and regularly continues his dental education in order to improve his service to his patients.  He has received advanced training in LANAP periodontal treatment, Six Month Smiles®, and implant placement.  As a dentist, his goal is to provide a broad range of dental services for entire families with an emphasis on and commitment to excellence.
Dr. Driggers and his wife of more than 30 years, Shellie, have one son, Sam, who joined Sonshine Family Dental in June 2018. Dr. Driggers enjoys fishing, golf, and gardening in his spare time, and is an active member of the Plainfield Christian Church.
Dr. Steven Driggers is listed as a Top Dentist in the December 2019 issue of Indianapolis Monthly magazine. Check it out here. Dr. Steve has been honored in this way for the sixth time!
---

Samuel L. Driggers, DDS
Dr. Sam Driggers graduated from the Indiana University School of Dentistry in 2018. He also holds a Bachelor of Arts degree in biology from Purdue University. Dr. Driggers and his wife, Danielle, faithfully attend Plainfield Christian Church Reunion campus. He enjoys sports, exercising with his wife and dog, and volunteering at Hope Community Care Center.
Meet Our Team
Our friendly team at Sonshine Family Dental is patient-focused and service-oriented.  We care about each patient we meet, and work hard to form genuine friendships with our patients both in and out of the office.  As a team, we pray for our patients each day before we begin working.  We invite you to call us at (317) 495-9537 to learn more about our dental services in Avon, Indiana, and make your appointment with our dentist.  We look forward to meeting you soon!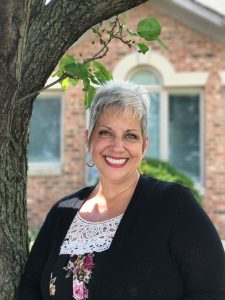 Jeanne– Office Administrator
Jeanne has been with our team since February 1996.  She began her career in 1982 as a dental assistant, and transitioned to a front desk position in 1990.  Jeanne works hard to give our patients the assistance they need with their insurance and account concerns.  She loves knowing each patient by name and learning more about them.  Jeanne loves being with our team – they are truly like extended family members.  Dr. Driggers commitment to excellence in dentistry makes Jeanne proud to say she is part of Sonshine Family Dental.
In 1982 Jeanne married her best friend!  She and her husband have 2 grown daughters, and they love spending time with their daughters and granddaughter.  They anxiously await the arrival of more grandchildren.  Jeanne's hobbies include reading, quilting, and spending time with her family.  She also enjoys scrapbooking – with real paper, not electronically!  Her daughters frequently tease her about knowing someone everywhere she goes – Jeanne grew up and the west side of Indianapolis, and now lives, worships, and works on the west side.  She loves seeing familiar faces everywhere she goes!
---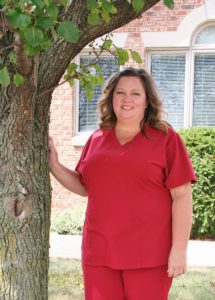 Kim – Dental Hygienist
Kim joined our team in May 2016.  She has been in the dental field since 1995, when she began working as a dental assistant.  In 2004, she completed dental hygiene school, graduating on the Dean's List.  When she joined Sonshine Family Dental, she found her home.  Kim loves the warm, inviting atmosphere, and most of all the love of Christ that is displayed among the people and throughout the office.  Her goal each day is to help our patients feel at home and to encourage them and educate them about the importance of great oral health.
Kim married her wonderful husband in 1995, and they have two children, Jadon and Josey, who are the loves of her life.  Outside of the office, Kim enjoys watching her children play sports and spending as much time as possible with her family.
---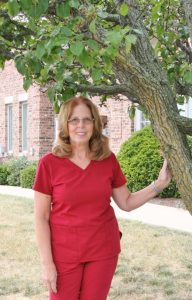 Vicki – Registered Dental Hygienist
Vicki has been with our team for 26 ½ years!  She graduated from Indiana University dental school in 1977 with her degree in dental hygiene.  Before studying dental hygiene, she completed one year of study in elementary education.  She enjoys the friendship of her fellow workers and patients, and is proud to work for a great dentist.  Growing up, Vicki always wanted to be a teacher, and motivates our patients through educating them about the importance of their oral health.
Vicki has been married for 39 years, and has lived in Avon for 29 years.  She has one son and one daughter, both of whom are married, and four grandchildren age 2-8, two boys and two girls. Her hobbies include quilting (visit her website at vickigilb.blogspot.com to see some of her quilts!), yoga, Pilates, bicycling, and gardening.  She has studied classical piano for more than 20 years as an adult.
---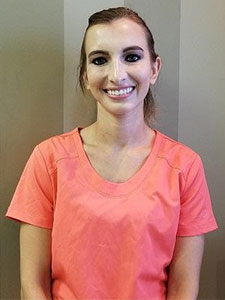 Samantha – Dental Hygienist
Samantha joined our team in May 2018. She's been in the dental field for six years. She married her husband in 2016 and has two lovely children. When she's not cleaning teeth, she adores spending time with her family along with dabbling in DIY Pinterest projects.
---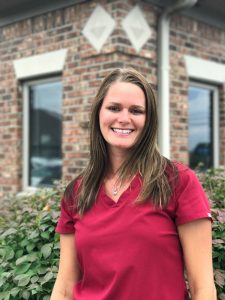 Krista– Dental Assistant
Krista has been with our team since March 2006.  She graduated from high school with a core 40 diploma, and completed college at PCI in 2006.  She loves the opportunity to build relationships with and help her patients, and considers her co-workers to be like family.  Krista strives each day to help our patients feel comfortable visiting the dentist and to help Dr. Driggers in performing procedures.
Krista got married in 2016.  She has one son and three step-daughters.  Outside the office, she enjoys cooking and being a wife and mom.
---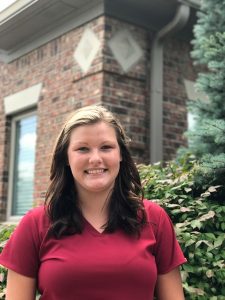 Taylor – Dental Assistant
Taylor joined our team in May 2017.  She attended Brightonwood College, and plans to continue her education.  She loves her co-workers, and works every day to help out however she can in the office.  Taylor enjoys the opportunity to help people each day and to build relationships with everyone she encounters.
Taylor is very close to her family, and has a dog and a cat.